TRACTIAN is proud to announce that we have received the ISO 27001 certification. This means that our company and our technology are in full compliance with international standards, and all operations within our systems align with the information security standards established by the International Organization for Standardization (ISO).
The validity of the certificate can be verified through this link.
With this remarkable accomplishment, we not only ensure, but also formally certify, the highest level of data security and reliability for our esteemed partner-clients.
"The ISO 27001 certification dispels any uncertainty surrounding the security and integrity of our clients' data. Our mission is to underpin the crucial operations and initiatives of various industries, leaving no room for error. This marks a significant milestone, as our clients are no longer faced with a trade-off between security and operational reliability – we now provide both," said Igor Marinelli, Co-CEO at TRACTIAN.
The International Organization for Standardization (ISO) is an independent and non-governmental institute with an international association composed of 167 national standardization bodies. The ISO/IEC 27000 standard family assists organizations in keeping their information assets secure.
"The information stored in our system is not only processed by a patented and proven accuracy AI but also maintained under the highest security and confidentiality, now approved by the world's most important certifying body," completes Marinelli.
The audit process was conducted by Prescient Security, a CREST-certified and highly respected company that ranks among the top 20 cybersecurity firms worldwide.
ISO 27001: Data Security, Availability, and Confidentiality
ISO 27001 is a globally recognized standard for managing information security within an organization. It promotes a holistic approach to the subject, assessing people, policies, and technology. An information security management system (ISMS) implemented in accordance with this standard is a tool for risk management, cyber resilience, and operational excellence. For TRACTIAN, this means: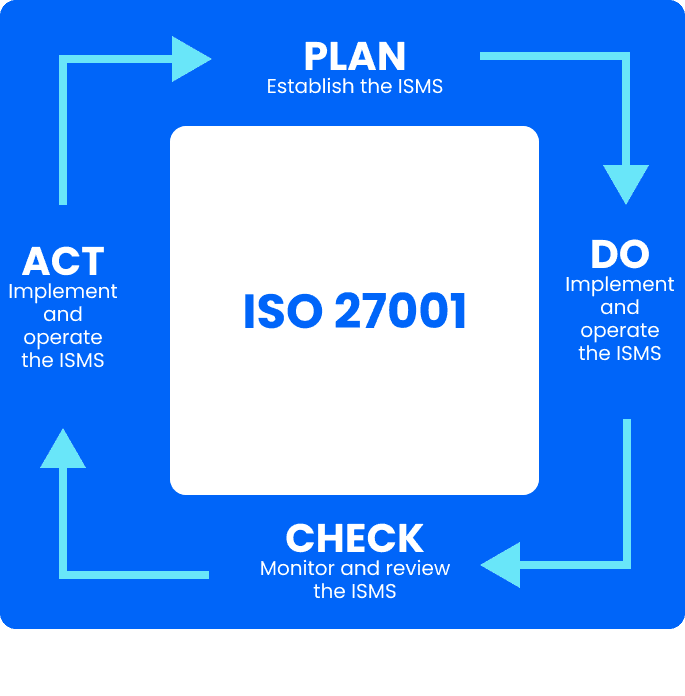 Enhanced Credibility: Demonstrates commitment to security, further building trust with users.
Improved Security: Helps identify and reduce security risks.
Regulatory Compliance: Aligns with data protection regulations.
Structured Security: Promotes a risk-based and adaptive security approach.
Continuous Improvement: Requires regular updates and improvements in security practices.
Penetration Testing: Various tests to simulate cyber intrusions to validate and identify system security vulnerabilities.
The standard's general principle is the adoption of a set of requirements, processes, and controls to ensure information security.
The process for obtaining the certification consists of two notably different parts:
Requirements
The first part addresses the definitions and requirements that must be followed for the standard to be met and for a company to be certified as meeting established standards. This section covers the elements shown in the following diagram:
Control Measures
The second part of the standard, known as ANNEX A, consists of a set of control measures that organizations must implement in various areas:
Compliance with ISO/IEC 27001 means that TRACTIAN has established a program to manage data security-related risks handled or owned by the company, ensuring that systems adhere to all best practices and principles outlined in this International Standard.
An information security management system that meets the requirements of ISO/IEC 27001 preserves the confidentiality, thoroughness, and availability of information, applying a risk management process and providing confidence to stakeholders that risks are being properly managed.
Obtaining ISO 27001 certification is a milestone that reflects not only the company's maturity in managing data security risks but also its continuous commitment to safeguarding the security, integrity, and availability of client information. More than an achievement, this certification represents the solid foundation upon which TRACTIAN builds trusted relationships with its partners and clients, protecting data and driving the company's success and credibility in an increasingly demanding market.
Through ISO 27001 and also by being present in the SAP Store, TRACTIAN not only ensures data protection but also positions itself as a leader in ensuring that information security and operational availability coexist harmoniously, offering customers the peace of mind that their information is in safe and reliable hands.