TRACTIAN exists to facilitate and optimize the routine of the professionals who work on the front line of industries, the maintenance managers.
Our goal is simple and clear, but understanding how we put it into practice may seem a little more complicated, since our products differ from everything else in the maintenance market today.
That is why, today, we bring you a complete manual of all the TRACTIAN solutions so you can understand once and for all who we are, what we do, and how our predictive system helps you boost your maintenance management.
By the end of this article, you will learn:
As I said at the beginning, we want to simplify your asset management and make it even more efficient. Below you will understand exactly how we do this. Enjoy your reading!
What is TRACTIAN and what is it used for?
Thinking of avoiding unexpected breakdowns, delays in production, and absurd repair costs with emergency corrections, we offer a set of solutions that, when put together, make up the most complete predictive system on the market.
TRACTIAN was named "Emerging Favorite" for CMMS and OEE on the Capterra Shortlist 2021
This way, by joining IoT sensors for asset health monitoring to an artificial intelligence platform and a maintenance management software, we prevent the biggest cause of headaches for industry professionals: machine downtime.
Our system allows maintainers to track the operation of their assets and plan maintenance activities assertively.
This way, they can use their time and resources strategically to extend the equipment's life cycle, increase its reliability, and ensure that production runs as expected, without unforeseen events, delays, and even less emergency repairs.
And we are not the only ones to back this up, our customers also agree. Check out our series of #SuccessCases, with real stories of industries such as Embraer, Corteva Agrisciense and Yara Fertilizers, that had their routines transformed by TRACTIAN's predictive system.
TRACTIAN Solutions
From vibration sensors to maintenance management software, TRACTIAN's products cover all industries, because no matter the size, every plant can benefit from an efficient maintenance system and has critical assets that need to be precisely monitored.
Check out our solutions, their advantages, and how they can increase the results of your operation.
Smart Trac: online monitoring of vibration, temperature and hour meter
With IoT (Internet of Things) technology, the Smart Trac sensor collects vibration, hour meter and temperature data from industrial assets of all kinds in real time, sending them immediately to TRACTIAN's online monitoring platform.
There, inside the platform, is where everything happens: through artificial intelligence, the software learns the assets' behavior and analyzes the data collected by the sensors.
This information is transformed into insights, diagnostics, and prescriptions sent automatically to the maintenance manager when failure is about to happen, saving them from unexpected downtime and breakdowns.
How does TRACTIAN's online monitoring sensor work?
Also on the online monitoring platform, which can be accessed via browser, cell phone or tablet (through the TRACTIAN App), the team can track the assets' health, check their main indicators (KPIs), and access complete analyses.
Thus, the team gets rid of the hard work of collecting and analyzing data and can focus on more important activities, such as defining more efficient strategies for the maintenance plan.
After all, thanks to accurate and immediate data and analysis, the solution allows the company to save significant resources, time, and effort unnecessarily spent on emergency corrective maintenance and randomly defined preventive maintenance.
And, before we move on to the next solution, we cannot fail to point out that the sensors are also innovative in the way they work: besides being independent – they do not require technician handling nor specialists to analyze the data — they have their own internet network and take only three minutes to be installed and start learning the asset's behavior.
Energy Trac: online monitoring of electric energy usage
Like the Smart Trac, the Energy Trac connects to the TRACTIAN online monitoring platform and collects data from the assets in real time. The big difference is that here, the data are on energy consumption, current, voltage, and machine power.
With the combination of sensor and software, you view the most important indicators of your power grid, access accurate information about the quality and energy efficiency of your operation, and receive insights at the slightest sign of electrical and mechanical failures.
In other words, from the same platform where staff monitors vibration, temperature, and hour meter data, they can track the operating window, the health of the electrical grid, and the automatic calculation of consumption vs. demand, all of that in real time.
And of course, like the Smart Trac, Energy has instant setup, non-intrusive installation and mobile network connectivity.
TracOS™: maintenance management software
TracOS™ is designed to once and for all replace the manual collectors, printers, paper, and complicated spreadsheets that still dominate the daily maintenance routine.
It is an asset management CMMS. This means that, through the software, the maintenance team manages activities, processes, equipment, and inventory in a single place, centralizing all work orders in the system, which can be accessed via browser or, as we mentioned before, through the TRACTIAN App.
Learn everything about the CMMS maintenance software with our ultimate guide
Users are able to create, customize, and automate work orders, assigning job owners, procedures, and metrics, attach files and images, and exchange messages with the team in real time via chat.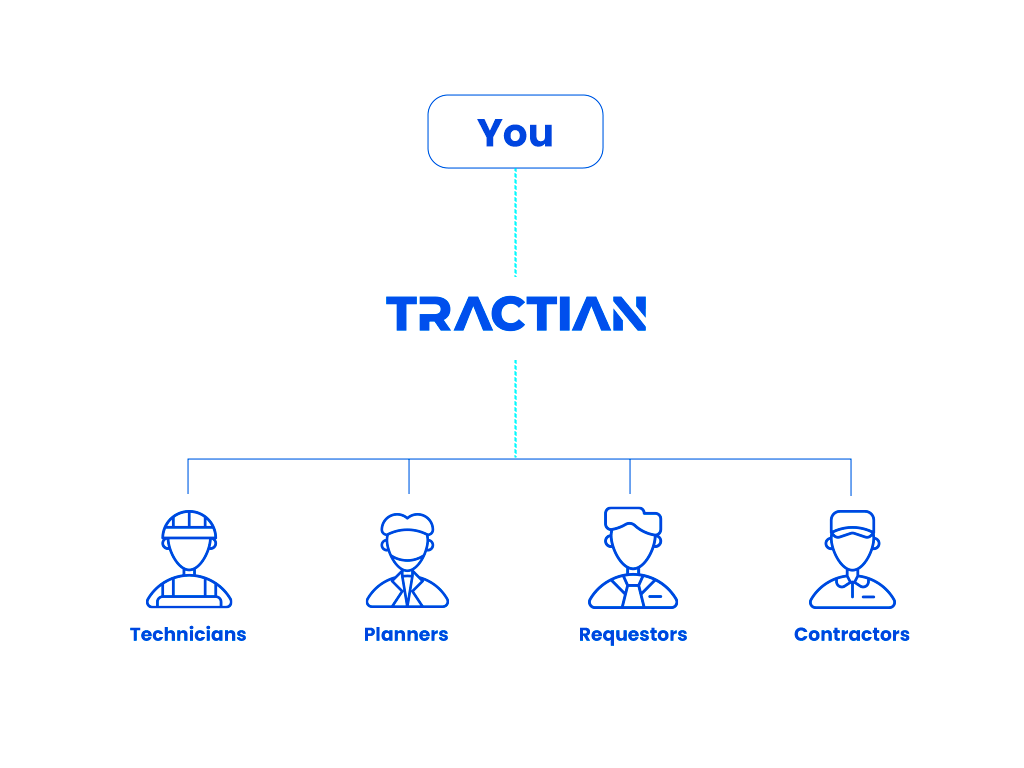 This way, all demands and interventions in progress are registered and updated so that all employees on your team can keep track of them, making asset management more unified and efficient. Handy, isn't it?
TracOS™ was even awarded as the third best maintenance management software in the world by GetApp's global ranking. Read more here.
How does the TRACTIAN predictive system work?
After presenting the solutions, of course we would not forget to mention the most powerful one: all of them together.
In order to have good results, you must first have good data. And to have good data, it is not enough just to collect it – it must be analyzed and turned into actions.
The alliance between online asset monitoring with sensors and CMMS fills all the gaps in the maintenance process: both data collection and analysis as well as activity planning are done through the same friendly and unified platform.
By doing so, we eliminate error-prone manual processes and centralize asset management in a complete predictive system.
With it, maintainers can not only monitor their assets in real time and know exactly when failure is about to happen, but they can also create customized work orders according to the collected data, turning an early identified failure into concrete action in the maintenance plan.
After all, it is not enough just to detect the failure, it is necessary to correct it, which is why the integration of Smart Trac sensors with the CMMS TracOS™ is fundamental.
The TRACTIAN predictive system closes and unifies the maintenance cycle: the sensors identify the problem, which is analyzed by the online monitoring platform.
The same problem is then communicated (also through the platform) to the team's technicians, who plan the repair in the form of an online, automated work order, and finally perform the repair. All this using a single tool, which can be carried in your pocket anywhere thanks to the App.
Now that you know all about our solutions and how they help your maintenance management, check out how to implement them, step by step!
Online Monitoring
We send the sensors to you at your company
You stick the sensors on the selected machines, like a band-aid. It's Plug & Play technology
All done: your assets are already being monitored and you can track them through the platform
CMMS
You send us your list of assets, locations and users
We get the platform ready and organized for you
You automate your plans and work orders
Say goodbye to Excel and let the platform automate your routine
What are you waiting for?
Now that you know the TRACTIAN solutions and what they are useful for, who they serve, and their advantages, you already know that they can and will transform your daily maintenance routine.
Your asset management can be much easier and more efficient, as long as the right tool comes into play.
Talk to one of our experts to find out which TRACTIAN solution best align with your plant's needs and discover the power of true prediction in practice.